Winter Already? Rental Property Furnace Maintenance Tips
This article is #2 of a 5 part series Rental Property Maintenance Tips for Winter - Free Property Manager and Landlord Resources from a leader in single-family property management software and solutions.. For additional suggestions checkout the rest of the Rental Property Maintenance Tips for Winter series.

Ongoing furnace maintenance can help you prevent large-scale problems with your properties' heating systems. Here's what to look for as you work to maintain your furnaces this year!

Know Your Rental Property Furnaces
When you add a new rental property to your roster, get to know the ins and outs of all of its features, including its heating system. This will help you determine what repairs and maintenance are required and who should do them. While natural gas furnaces are relatively easy for non-specialists to maintain, oil furnace or heat pump maintenance may require a vendor who specializes in these heating systems.
Facts About House Fires from the NFPA:
The leading factor contributing to home heating fires (30%) was a failure to clean, principally creosote from solid-fueled heating equipment, primarily chimneys.
Nearly half (49%) of all home heating fires occurred in December, January, and February.
What Can You Maintain Yourself?
If you have a maintenance worker who is a generalist rather than a specialist, what sorts of furnace maintenance issues can that person manage?
Check the furnace filter monthly during the cold season. According to the DIY Network, "a dirty filter will cause excessive strain on your furnace, increase heating costs and reduce the life of your equipment." Wash and rinse permanent filters every month. Ensure that your filter area has a cover as well.
Reset the dampers. This should be done seasonally during the transition from air conditioning to furnace heat.
Oil bearings around the motor and blower shaft. Do this annually to keep older furnaces in good repair.
Check the burner of the flame shield for corrosion.
Check belts on belt-driven blowers to look for damage such as fraying.
Keep your heating efficient. Seal leaky air ducts with metal tape.
Look at the heating vents and ensure that they are uncovered to encourage optimal air movement.
Always turn off the fuel and electricity before doing maintenance on a furnace.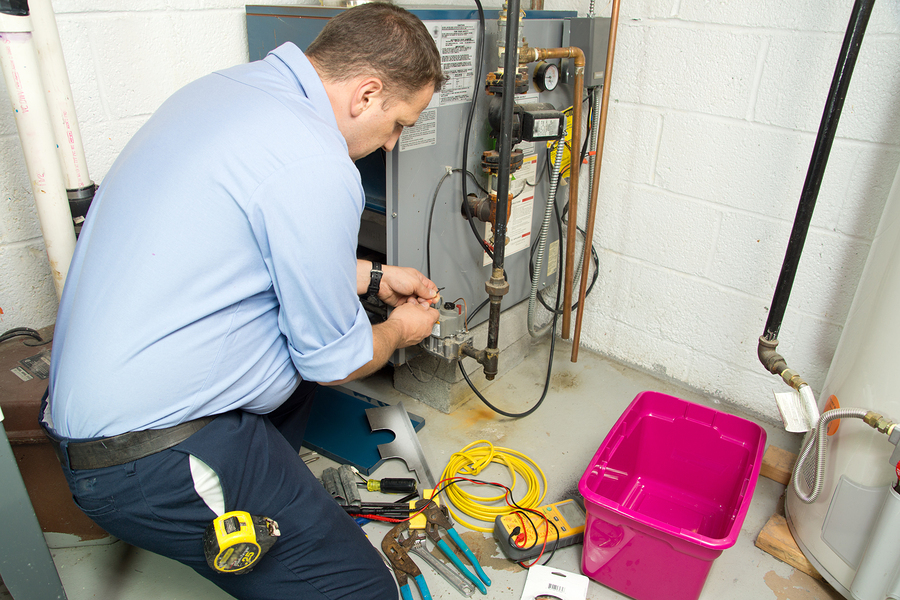 Look for Ongoing Problems That Require a Professional
While some furnace check ups can be done by maintenance staff who are not focused on furnace maintenance, other problems are more suited to a professional. For example, if the furnace turns off and on in a short cycle, has an irregular flame, develops soot deposits, or has chronic problems, it's time to bring in a professional to get to the root of the problem.
Document and Track Furnace Maintenance 
Documenting and tracking your maintenance is critical to ensure that all of your properties receive good service and that their heating systems remain in good repair. As This Old House says, annual furnace maintenance is critical for safety as well:
"Without this yearly cleaning and inspection, a system can wear itself out quickly, pump deadly carbon monoxide into your home, or simply stop working."
Conduct regular inspections on an annual schedule and whenever a property is vacant. Ask your maintenance staff to conduct monthly and seasonal tasks as well. Many furnaces are woefully under-maintained. By keeping yours in good condition, you'll prevent many problems down the road.
Ready for Stress-Free Property Management Software?
Do you need help managing your rental property management? Property software can help you keep all of your maintenance under control. From furnaces to lawn care, Propertyware's software products can help you create maintenance and inspection schedules that will keep your properties on track. Get pricing today.
Source: NFPA's "Home Fires Involving Heating Equipment" report by Richard Campbell, April 2016.